This gorgeous rose gold is inspired by the magical region of Cappadocia in Turkey. Cappadocia is famous for its unique rock formations, ancient history, and hot air balloons, making it one of Turkey's most popular natural wonders & tourist attractions. The landscape of the region is filled with soft volcanic rock that has turned into hundreds of strangely shaped pillars, cones, and "fairy chimneys", in various colours and with churches, chapels, and monasteries hollowed into the rocks.

Best described as a pearly and opaque rose gold finish
This gorgeous rose gold is inspired by the magical region of Cappadocia in Turkey. Cappadocia is famous for its unique rock formations, ancient history, and hot air balloons, making it one of Turkey's most popular natural wonders & tourist attractions. The landscape of the region is filled with soft volcanic rock that has turned into hundreds of strangely shaped pillars, cones, and "fairy chimneys", in various colours and with churches, chapels, and monasteries hollowed into the rocks.

Best described as a pearly and opaque rose gold finish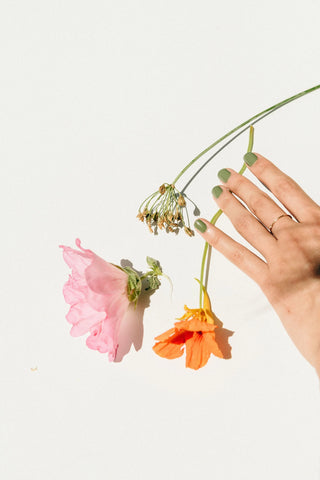 A Formula Made for All
Wudu-friendly and approved, our innovative formula allows water permeation through osmosis, providing a solution for those seeking breathable and halal-certified nail products.
Our nail polishes boast a 21-free, non-toxic, plant-based formula, ensuring a safe and eco-friendly beauty experience
Express yourself freely with our nail polish, crafted to be inclusive and welcoming to individuals of all ethical and spiritual backgrounds
Answers to all your questions
Breathable nail polish
Loved it, one coat lasted me a whole week & only needed repolishing as I had been washing dishes all week.
Cappadocia - Breathable Nail Polish - NEW!
Good quality halal nail polish
Absolutely love it. Looks and feels just like gel nail varish.I feel the price can be a little less per bottle hence why I will only buy when on offer so its more affordable.
Such a pretty colour
It's a rose gold shimmery colour, would recommend